Lean Retail at a Glance
11,000
hours per year saved on ordering, stocking and receiving.
14.5%
inventory reduction.
10x
increase in Buy Online/Pickup In-Store sales.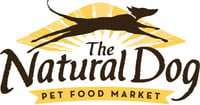 The Natural Dog is an independent pet specialty chain that has served north-central North Carolina since 1970. The chain provides a variety of organic pet foods and healthy pet products, as well as dog grooming, washing and training services, all within a friendly culture. The Natural Dog added two new stores to their base of five in 2021. They see continued growth opportunities in the thriving pet retail market.
Challenge
The Natural Dog relied on a cobbled stack of legacy software, with POS systems tied into servers at the company headquarters. This system could not support their omnichannel needs and it was blocking their growth. The limitations of their old system were costing them several thousand hours of labor each year in inventory management and back-office tasks that could be automated, as well as additional stocking, accounting and IT management time. This manual work resulted in costly ordering errors, inefficient inventory levels, and staff who were distracted from customers.
For The Natural Dog to grow, they needed a retail management platform that aligned with their customer-focused and data-driven growth plans.
Solution
Under the leadership of CEO Scotty Tanner, The Natural Dog chose FieldStack's Lean Retail Management Platform. The company selected FieldStack for its ability to support their growth plans, help them deliver exceptional customer experiences across channels, and improve operational efficiency.
They appreciated that FieldStack leverages real-time data, advanced analytics, and automation, and seamlessly connects their stores, website, warehouses, and supply chain around the personalized needs of their customers.
"We knew FieldStack has a strong track record with other pet retail chains, which is great," said Tanner, "Then, their cost model was what really sold us. They are successful when we are successful, so they want to help us grow."
Results
A Record Year in Sales.
2021 was the best year ever for The Natural Dog. "A lot of that growth was from adding two stores," said Tanner, "but we just couldn't have added them without FieldStack. I wouldn't have been able to do it with our old system."
Better Ordering in Less Time Through a Transformed Inventory Process

Prior to FieldStack, store managers were doing orders based on reporting, visual inspection, and manual processes. "Ordering used to be about 80% of each manager's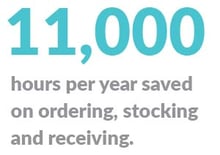 time. That's been reduced to 10%, and we've centralized ordering to one headquarters position," said Tanner. "This is saving us 6,000 hours per year in inventory management activities alone, and it's freed up our managers to reallocate their time for staff and customers."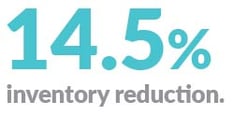 "Efficiencies with receiving and stocking are saving another 5,000 hours," continued Tanner. "Plus, our inventory is optimized and we track it in real-time. We have the items our customers want, and we avoid overstocks. Our inventory has reduced by 14.5% — that's about $250,000 in operating capital!"
Tremendous Omnichannel Sales Growth
"FieldStack has improved our online business by combining our multiple brands onto one e-commerce site that's easy to use. The website gives real-time, in-store inventory so customers can have a product shipped or pick it up.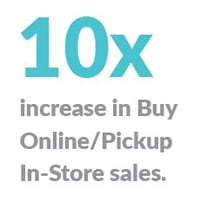 Our "Buy Online/Pickup In-store" business has taken off. In 2019 we did $30,000 of in-store pickup from web purchases. With COVID that exploded to nearly $300,000 per year. FieldStack has allowed us to easily support that growth.
Also, FieldStack allows us to satisfy the requirements of third-party channels such as Amazon, so we have additional online outlets for national sales."
Satisfied Customers
The Natural Dog has leveraged FieldStack to improve customer satisfaction. "Different transaction types, like BOPIS, are what customers expect," said Tanner, "But FieldStack has boosted customer service in surprising ways, too. I mentioned how our managers now work the floor, and we've been able to change staffing so that all staff are pet specialists who can help customers."
Streamlined IT and Accounting
"Our one IT person was consumed with managing our old legacy software. He had to coordinate upgrades and patches between HQ and our stores, and we'd have downtime," said Tanner. "With FieldStack's cloud platform, there's very little IT maintenance, and we don't worry about hardware."
"FieldStack also reduced our accounting costs by $120,000 per year. Now our monthly close-out on books is automated, and we have real-time numbers."
Ready for the Future
"We're planning to continue adding stores and growing our online business. FieldStack's scalability allows us to do that," exclaimed Tanner. "We can focus on our customers and our business, because we now have a reliable technology platform that will take us where we want to go."